In the first two parts of our series, Part 1 and Part 2, we unpacked the questions your business should be asking as it prepares for migration to SAP S4/HANA. Now get ready for the final five things you should be putting on your strategy table before you step towards your SAP S4/HANA integration…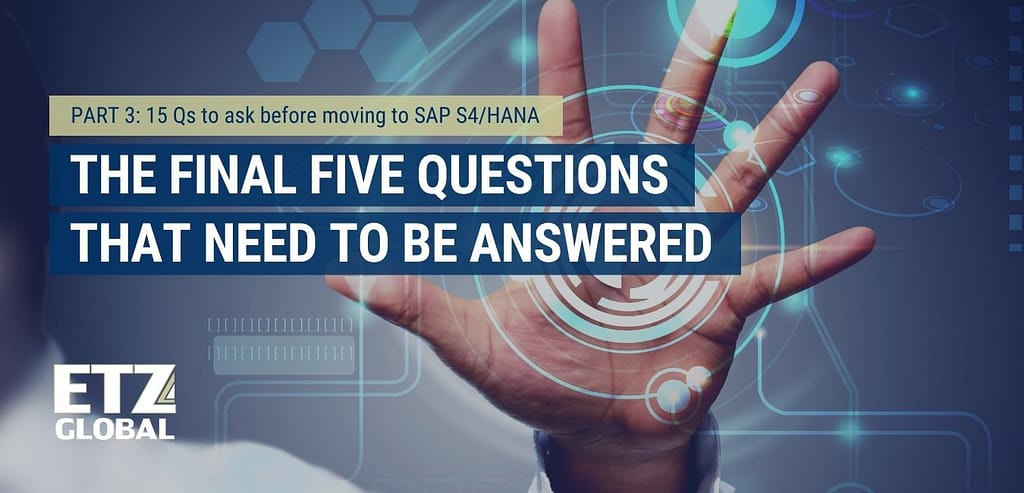 01: Where do you stand on innovation?
Why ask this question: Because as much as innovation is a buzzword, it's also a priority for organisations looking to thrive in demanding and disruptive times.
SAP S4/HANA can either be an incremental process or a comprehensive, sweeping change. The way in which your organisation approaches innovation and change will dictate which approach is best for you. Companies that are driven by incremental innovation will be able to adopt a multi-year plan that unpacks innovation with SAP S4/HANA in steady steps. Those that are not sure if this is the right road for them should consider a new installation.
Consider: How your business works best and then approach your SAP S4/HANA implementation strategy accordingly otherwise you may not experience the full value of your investment.
02: What is your risk mitigation plan?
Why ask this question: Because there is always risk so it's better to be prepared than to be run over.
There is one thing that every project can plan for – risk. Risk comes in many forms, from the unexpected complexity to the unplanned downtime to the inexplicable incompatibility in one system. The best strategy is to ensure that your SAP S4/HANA migration plans for the unexpected risks so that you are ready when they occur, and so you can celebrate if they don't.
Consider: Working with a third-party service provider that has the expertise required to smooth over the unexpected bumps in the road. With their experience and your understanding of your business, you can ensure that the planning and execution of your SAP S4/HANA strategy is as seamless and painless as possible.
03: How is your data?
Why ask this question: Because you need to know what data is important for the business, what drives the business and what supports the business.
You have a lot of data, and you want to know what to do with it. Is your historic data worth retaining? Should you retain some of it? These are important questions that can help you unpack what data you need to ensure that your operations run smoothly, what data will help keep the business standing, and what data is just flotsam getting in the way.
Consider: You need to unpack all the options around your data before you choose your data transition and make the move to SAP S4/HANA. This is a systematic and smart process that can have a long-term impact on your business and your bottom line, so it's worth doing.
04: What other considerations are important?
Why ask this question: Because this is an important move, and you need to make long-term decisions that can fundamentally impact on your business.
You need to know if:
Your team has the right skills so you can pull off the move with minimal fuss
You have undertaken due diligence and looked in every corner
Your team understands the system and concepts
Your culture is ready to adapt to a new way of thinking
You have chosen the right partner to help you navigate these challenges
You have planned, tested, planned, and tested again
You have checked compatibility and assessed your custom code to ensure a seamless move
You have done all your housekeeping, so your move is clean
Consider: Creating a comprehensive checklist because that's the only way you can be sure that you've looked under every carpet and checked every crevice prior to your move.
05: Do you know where to find the right partner?
Why ask this question: Because the wrong partner can have as negative an impact on your move to SAP S4/HANA as not doing the groundwork prior to the move.
You need to find a company that knows the ins and the outs of SAP S4/HANA. That has wrestled with the beast for years, has the right certifications and accreditations, and that gets the problems that can happen.
Consider: Work with the ETZ team. We have extensive experience in preparing systems for Readiness Checks and will work with you to prepare yours, perfectly. Get in touch to find out how we recommend you tackle this process today.