SAP is offering RISE with SAP in an attempt to help customers get started with cloud adoption, aligning with the global trend for digital transformation. This may not suit all customers especially those who need to maintain control, have regulatory requirements and who will require customization beyond SAP standard code and business functionality.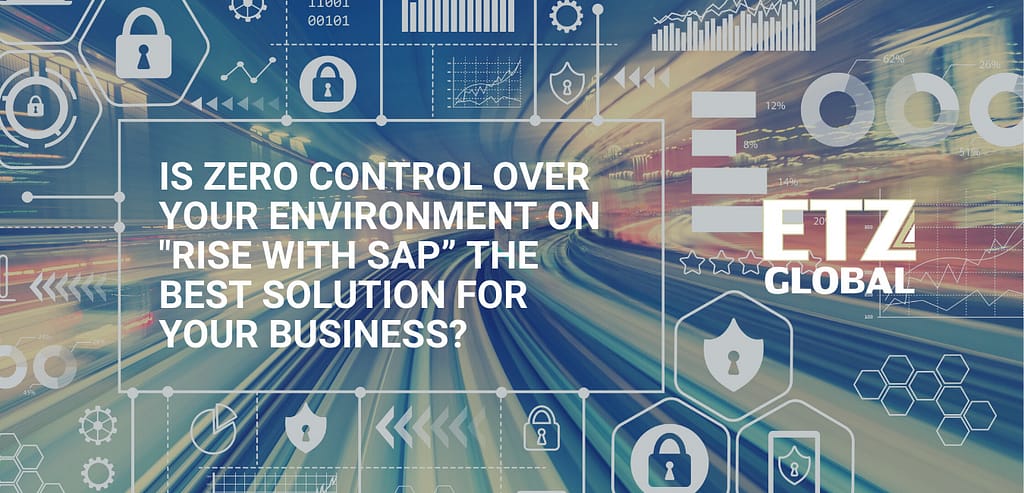 Four reasons why you need control over your infrastructure and cloud
Hybrid, private and public cloud platforms offer organisations significant benefits across cost-savings, customisation, flexibility, agility and service delivery. The rapid evolution of the digital landscape and cloud functionality provides organisations of all sizes with the toolkits they need to manage sustainable and intelligent growth. However, there is a risk of losing control over granular features, upgrades and spend, so companies need to invest into solutions that allow them to maintain control, without compromising on capability.
Here are four things that your business needs to consider to ensure that you retain control over your cloud investments, and spend:
01: Control over infrastructure and licensing
Cloud infrastructure requires consistent management and maintenance to ensure that it remains secure and relevant, and to mitigate scope and cost creep. You need to ensure that patches, upgrades and support packages are accessible, and implemented to your timelines – particularly if your business has to comply with rigorous compliance requirements. This level of granular control is easily managed with a third-party service provider who can maintain your SAP infrastructure in line with what your business needs. This approach ensures that you retain control over your system and licensing, while pulling on the capabilities of trusted third-party expertise.
02: Technical control

You need to retain direct access to your data on the technical level to ensure that the value derived is done so on your terms. Considering how invaluable data has become, access to data on demand is a critical component of a successful public cloud strategy. You will also need scope to customise and adapt technology to suit your business. There are very few implementations that don't require a measure of customisation to fit the business, and even fewer that can take a cut and paste approach. You need a proof of concept (PoC) or sandbox approach that allows you to comprehensively unpack your technical requirements, customisation needs, and scope. This allows for richer control over system and spend while minimising risk.
03: Control over innovation and development
The customisation requirements outlined in point two above are invaluable when it comes to transformation and innovation beyond your existing infrastructure. If you've invested into SAP, for example, you want control over the tools that will allow for your organisation to fully realise the potential of other cloud services and technologies. When your systems are managed by ETZ Global, you get maximum control and extensibility throughout your services and infrastructure, and room to innovate and pivot on demand.
04: Control over your elasticity and flex
Sure, flexibility is a buzzword. So is elasticity. But they're buzzwords for a reason – they allow for your organisation to gain deep control over system and infrastructure, to adapt to unexpected market conditions at speed, to evolve innovation on demand, and to scale at will. An elastic and flexible landscape will deliver measurable savings, and allow for integration with other solutions and applications to embed innovation and stability within the foundations of your infrastructure. You need a solution that recognises the complexities unique to your landscape, that can adapt to your changing business needs, and that allows for ongoing optimisation.
ETZ Global has extensive SAP S4/HANA and managed services expertise, providing companies of all sizes with the tools, support and infrastructure they require to thrive in the modern world. Providing 99.99999999999% availability and disaster recovery, immediate access to your data, PoC and sandbox functionality, high customisation, measurable cost-savings, and robust optimisation capabilities, we help you to innovate with SAP using the services, applications and systems that best suit your business. Let us give you control over your infrastructure, data, business processes and other intellectual property today, contact us.